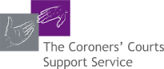 Overview of service
The Coroners' Courts Support Service is a registered charity whose volunteers give emotional and practical support to families and other witnesses attending inquests at a number of Coroner's Court including Flax Bourton in Avon.

For a full list of courts covered please see the website.

Eligibility criteria
Available to all attending Coroner's court
Area(s) covered
Bristol
South Gloucestershire
BANES
North Somerset
Somerset
Contact information
Telephone: Support line - 02036677884 between the hours of 9am-5pm Monday to Friday Main contact number: 03001112141
Email: info@ccsupport.org.uk
Opening hours
The Support Line opening hours are 9:00am-5:00pm Monday to Friday. Should you call outside of these hours you will reach an reach message and will be given additional contact instructions depending on the nature of your enquiry.
This organisation can help you with
Children and Young People
Emotional Support
Legal processes