The Hide Out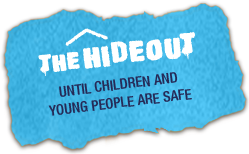 Overview of service
A website designed by Women's Aid for children and young people to help them identify domestic abuse within the family or their personal relationships and advice on how to address it. The website has easy to complete questionnaires which guide users through difficult topics to identify where they might benefit from support or guidance and where to find it.
Eligibility criteria
Children and young people who are experiencing or have previously experienced domestic abuse.
Area(s) covered
Bristol
South Gloucestershire
BANES
North Somerset
Somerset
Contact information
Opening hours
Website only - accessible 24/7
This organisation can help you with
Children and Young People
Domestic Abuse
Emotional Support