Criminal Justice Process
Covid-19 Criminal Justice Board Update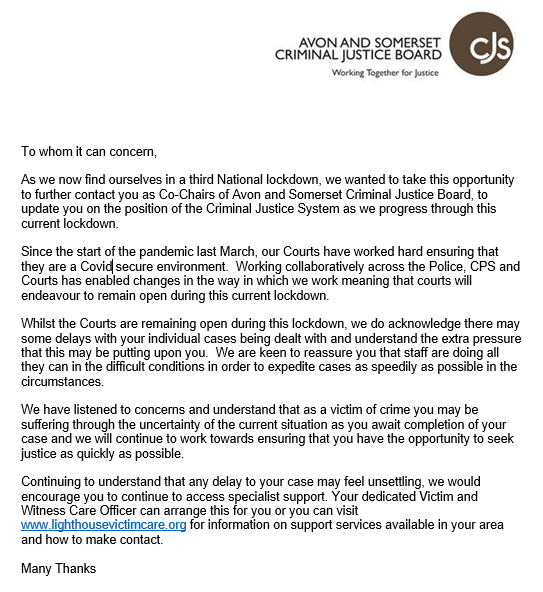 If a suspect is charged with an offence, there will be a court process. This will involve a number of different agencies working together, including:
The Police
The Crown Prosecution Service
Magistrates' and Crown Courts
As a victim or witness, you are entitled to information, practical help and support throughout.  This will be provided by Lighthouse, working closely with the Police Officers and Criminal Justice agencies dealing with your case.
You can find out more about this in the Code of Practice for Victims of Crime which details the service victims should expect from the Police and other partner organisations.
Going to Court
If the defendant pleads not-guilty then a trial will take place and you might be asked to attend and give evidence.
The Police will guide you through the process; and help with practical things, such as:
Arranging travel and accommodation
Claiming expenses
Arrange for you to visit the Court in advance to see how things work
Be supported at Court on the day of the trial
You can find out more about the Court process by watching the 'going to court' videos
Making a Victim Personal Statement
If you are a victim of crime you are entitled to make a Victim Personal Statement
This is your chance to say how you feel about the crime and the effect it has had on you and your family. This can include how the crime has affected you financially, physically or emotionally.
Generally, Victim Personal Statements are read on your behalf by the Prosecutor, Judge or Magistrate when the Court is deciding about the right sentence for the defendant. However, you can ask to read the statement out yourself if you would prefer.
Businesses who are victims of crime can also make a Business Impact Statement
If you would like to make a Victim Personal Statement or Business Impact Statement, please tell the police officer dealing with your case, or your Lighthouse Victim Care Officer, and they will arrange this for you.
Compensation
If you are the victim of a crime where you suffered an injury, damage to your property or loss of earnings, we may be able to ask the court to consider awarding you compensation.
Compensation is not guaranteed, and there are many circumstances where the court will be unable to make an award (for example, if the offender does not have the means to pay, or has received a prison sentence).
If you have suffered financially as a result of a crime, and would like the court to consider compensation, please provide full details to the officer dealing with your case, or speak to your Lighthouse Victim Care Officer.
If you are a victim of violent crime, you may also be eligible to claim through the Criminal Injuries Compensation Authority (CICA)
Keeping up to date with your case
You will be allocated a Lighthouse Victim Care Officer (VCO) from the Police, who will be your main point of contact as your case goes through the criminal courts. They will work with the Crown Prosecution Service, Court and the Police Officer/s handling your case to make sure your needs are taken into account and that you are kept updated throughout your case.  The Lighthouse VCO will also deal with all the witnesses in the case, and ensure they are also kept informed.
Support Services
There are many organisations that provide a range of support services for victims and witnesses. This website allows you to search for these organisations by type and by area, so that you can find the most appropriate organisation for your needs. Your VCO will also be able to discuss your options and advise on the best route for you.
Understanding Sentencing
Confused by sentencing? You be the Judge gives you an opportunity to sit in the judge's chair, to help understand sentencing decisions.
Visit You be the Judge and you can choose from four scenarios based on real-life cases, each video lasting about six minutes. You can choose from cases of criminal damage, burglary, threatening behaviour and robbery.
You will hear the facts of the case, weigh up the aggravating and mitigating factors, and consider the offender's circumstances and the sentencing guidelines. As the judge, you get to choose the sentence and compare it to the actual sentence given. You'll also get to see what other people chose.