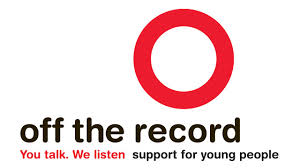 Overview of service
Off the Record was set up to promote the emotional health and wellbeing of young people. The organisation serves the needs of young people by providing a range of information and support services to those in the Banes area.

• Listening Support – A young person can have someone to talk to. The service provides information, support and counselling. This service is available for young persons between the age of 10-25. There is a School Outreach Service which is available to students in a number of B&NES secondary schools – it also delivers workshops in schools for all children at participating schools

• Shout Out – Is an advocacy service for children and young people aged 0-18 years old, who work, live or study in Bath.
Advocacy can help a child or young person in, or moving on from care, a child or young person subject to a child protection conference, a young person (aged 16 and 17) without a permanent home, a disabled child or young person ( if they have not yet had their 19th birthday), a child or young person who wants to make a complaint about social services provision, a young person with special educational needs and/ or disability that wants help to prepare for their 'Year 11 transition review', looking at pathways to employment, independent living, community inclusion, health



How to refer:
AGED 10 – 25 YEARS then you can self refer – please call or text us on 0775 389 1745, leave us a message with your name and contact number and we will get back to you.

OR call our Phoneline on 0300 303 3661 which is open 5 – 8pm Wednesday and 4 – 7pm Friday's.



Eligibility criteria
Young people in the BANES area - ages ranging from 10-25 dependant on the service required
Area(s) covered
Contact information
Opening hours
5 – 8pm Wednesday
4 – 7pm Friday
This organisation can help you with
Children and Young People
Emotional Support
Further information